Electronic controller repair and testing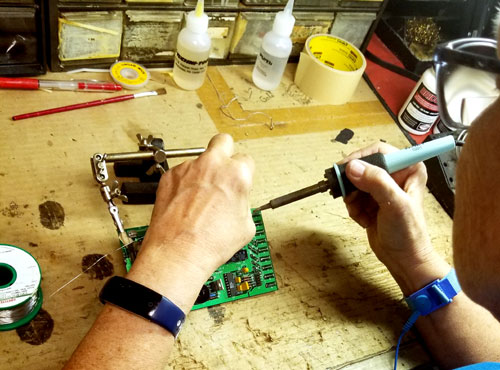 We strive to support what we sell! If your panel has a EG Controls branded controller, and its not behaving as expected, or it will not power up anymore, we may be able to fix it. Repair can save thousands of dollars over replacement and potentially a whole new panel.
Our electronics repair room is specifically designed to repair EG Controls products. Not all controllers can be repaired. As of this time, we do not repair other manufacturer controllers or industrial equipment. Once repair is completed, your controller will be put through extended stress testing processes to simulate normal operation through freezing New England winters and the hottest days in an Arizona desert. Once the controller passes these tests, it is shipped back to you with a 1 year warranty from the date of the completed repair.
Quick facts about EG Controls electronics repair:
Separate, environmentally controlled room.
Testing performed with computerized system that simulates real world use and operations.
Units are stress tested with extreme heat and cold beyond real world conditions.
Repaired units are not be released until they complete multiple weeks of stress testing.
EG Controls only repairs controllers manufactured by EG controls. Digi-Gage, Vari-Gage etc.
All work is performed in the USA.
Process to get your controller repaired:
Contact EG Controls and explain what is wrong with your controller.
EG Controls will collect job information. (Panel factory number, controller serial number, etc.)
EG Controls issues an RMA to reference the job.
Customer pays shipping sending the controller in. Please share tracking so we can stay on top of the arrival.

Do not send in equipment without first communicating with EG and getting an RMA.

Customer is charged an evaluation fee. This is payable by credit card if you do not have an account with us.
Once evaluated, EG contacts customer to let them know repair cost.
If repairs are minor, they are completed on site and testing process begins. If testing does not pass, and more repairs are needed, customer gets updated repair cost and process is repeated until it passes testing.
Customer is shipped back completed controller. Turnaround time can take up to 6 weeks.
If major repairs are needed, the unit is sent to a 3rd party to be completely refreshed. Once completed, the refreshed unit is sent through the standard testing procedures.
When unit passes testing, customer is shipped back completed controller. Turnaround time can take up to 8 weeks.